Clio's Art Collection – Donna Czapiga
Donna Czapiga makes paintings that attempt to choreograph a collision between the orchestrated and the unintended. Taking cues from art history and decorative motifs from both high and low culture, she recombines the imagery into a painterly context taking interpretive liberties along the way, reflecting a movement of construction/deconstruction, generation/regeneration, and definition/redefinition.
She lives and works in Philadelphia.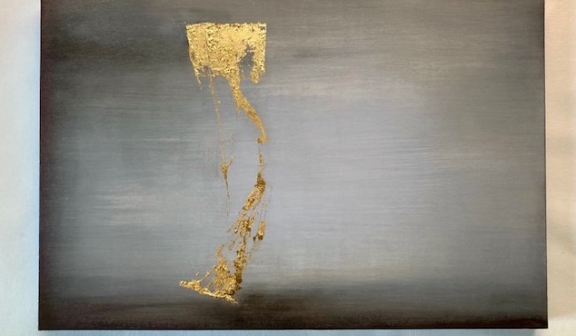 Clio's Art Collection – Jared Rue

For centuries, Native Americans had camped along Cherry Creek, given the name because of the small chokecherry trees that grew along its banks. This commissioned art is inspired by the lush nature the region offered.

Clio's Art Collection – Kim Knoll

This art respond to the beautiful Colorado mountains, in abstract and dream-like visual.

Clio's Art Collection – Suzanne Creighton

This commissioned art showing the vintage Colorado's mountain scenery with river in gold tone inspired by the story of gold discovery.

Clio's Art Collection – STEFANIYA SHVARTSMAN

This art visually conveys the quality of gold hidden inside the rock formation, portraying the sense of discovery and optimism.

Clio's Art Collection – Stephen Balut

This visual of the art and layered thread technique relate to the concept of the power of confluence, how two separate streams can merge and create a dynamic new flow together.

Clio's Art Collection – PORTER TELEO

This art relates to the idea of gold inside fissured rocks under the river and representing an element of surprise.