Clio's Art Collection – Suzanne Creighton
Suzanne Creighton is a multimedia artist with a focus on Geometric abstraction and the importance of shapes. The power of shapes is that they can communicate emotion, such as how we are affected differently when seeing an organic shape with soft gentle curves, then when seeing shapes with sharp jagged edges. In this body of work, Creighton is decorating the surface with nails and golden thread to produce geometric shapes arranged in an irregular manner. Not only is the process enjoyable for the imagination, but the outcome also conveys a vivid mood and energy.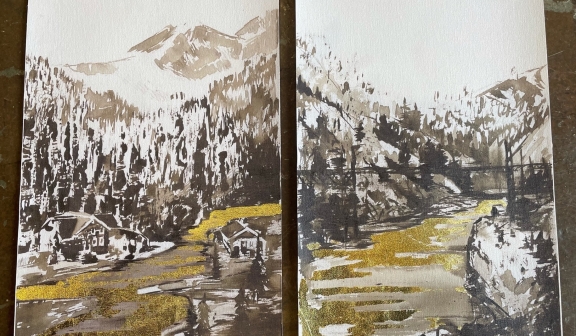 Clio's Art Collection – STEFANIYA SHVARTSMAN

This art visually conveys the quality of gold hidden inside the rock formation, portraying the sense of discovery and optimism.

Clio's Art Collection – Donna Czapiga

This art responds to the concept of Pikes Peak Gold Rush. The organic quality of the background and striking gold paint almost appears as gold dust floating at the bottom of the river.

Clio's Art Collection – PORTER TELEO

This art relates to the idea of gold inside fissured rocks under the river and representing an element of surprise.

Clio's Art Collection – Stephen Balut

This visual of the art and layered thread technique relate to the concept of the power of confluence, how two separate streams can merge and create a dynamic new flow together.

Clio's Art Collection – Jared Rue

For centuries, Native Americans had camped along Cherry Creek, given the name because of the small chokecherry trees that grew along its banks. This commissioned art is inspired by the lush nature the region offered.

Clio's Art Collection – Kim Knoll

This art respond to the beautiful Colorado mountains, in abstract and dream-like visual.