Clio's Art Collection – Hannah Ehrlich
Hannah Ehrlich is a textile artist based in Atlanta, GA. Her work focuses on the abstraction of landscapes to portray human emotions and tearing away from normality to question the true being inside us. A space is created where the self can be questioned and the chaos versus order in our emotions can be revealed. Ehrlich received her BFA in Textile and Fiber Arts from Lamar Dodd School of Art at the University of Georgia in 2017. While in school she was the President of her department and was awarded the Surface Design Association Outstanding Student Award. In 2019 she was selected to be the featured artist at the Westobou Gallery in Augusta, GA. She has exhibited around the southeast at numerous galleries and currently works out of her studio in Atlanta, Ga.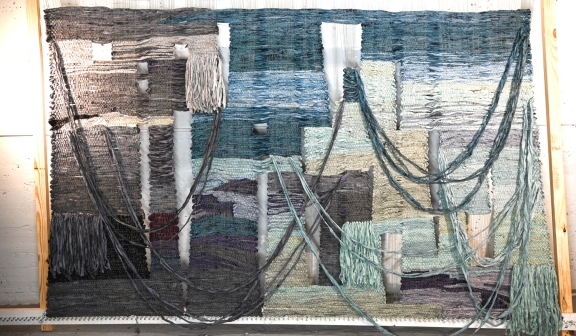 Clio's Art Collection – Kim Knoll

This art respond to the beautiful Colorado mountains, in abstract and dream-like visual.

Clio's Art Collection – PORTER TELEO

This art relates to the idea of gold inside fissured rocks under the river and representing an element of surprise.

Clio's Art Collection – Stephen Balut

This visual of the art and layered thread technique relate to the concept of the power of confluence, how two separate streams can merge and create a dynamic new flow together.

Clio's Art Collection – Donna Czapiga

This art responds to the concept of Pikes Peak Gold Rush. The organic quality of the background and striking gold paint almost appears as gold dust floating at the bottom of the river.

Clio's Art Collection – Jared Rue

For centuries, Native Americans had camped along Cherry Creek, given the name because of the small chokecherry trees that grew along its banks. This commissioned art is inspired by the lush nature the region offered.

Clio's Art Collection – STEFANIYA SHVARTSMAN

This art visually conveys the quality of gold hidden inside the rock formation, portraying the sense of discovery and optimism.