Clio's Art Collection – Stephen Balut
My paintings are about beauty, complexity, mystery and scalelessness. They most often beckon the ethereal and atmospheric qualities of infinity. Celestial vibrations of color created with paint and thread. First, I paint the canvas, then I wrap the canvas with as many as 50 layers of thread, string, yarn, wire and/or monofilament. Each layer has a unique color and sheen that reflects light differently depending on its depth and contrast or resonance with the paint behind. Viewed perpendicular to the piece the paint typically dominates the reflected light and combines with the thread to create a deep and rich composition. Thread shadows on the canvas and recessive layers of thread – contribute to the depth and complexity. Viewed at an angle the paint is subdued, the reflection of light from the threads dominate and the uppermost layers create a lenticular fuzzy glow. The pieces resonate with simplicity and a faint reckoning of our place in the firmament. A complex and enigmatic beautiful moment, somewhere.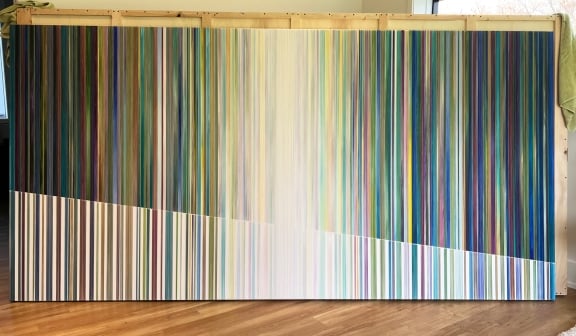 Clio's Art Collection – PORTER TELEO

This art relates to the idea of gold inside fissured rocks under the river and representing an element of surprise.

Clio's Art Collection – Donna Czapiga

This art responds to the concept of Pikes Peak Gold Rush. The organic quality of the background and striking gold paint almost appears as gold dust floating at the bottom of the river.

Clio's Art Collection – Suzanne Creighton

This commissioned art showing the vintage Colorado's mountain scenery with river in gold tone inspired by the story of gold discovery.

Clio's Art Collection – STEFANIYA SHVARTSMAN

This art visually conveys the quality of gold hidden inside the rock formation, portraying the sense of discovery and optimism.

Clio's Art Collection – Hannah Ehrlich

During the Pike's Peak Gold Rush period, gold dusts were oftentimes used as a currency for trading. This commissioned art represents the custom of people sewing the gold dusts onto their clothing for safekeeping, with weaves incorporating subtle gold threads.

Clio's Art Collection – Kim Knoll

This art respond to the beautiful Colorado mountains, in abstract and dream-like visual.