Clio's Art Collection – Kim Knoll
Inspired by landscapes and influenced by minimalism, I enjoy bringing the outdoors in through painting, in a beautiful, simple and unexpected way. My works on paper are an abstract interpretation of moments and sights from my time spent in nature exploring lakes, mountains, forests and coastlines through hiking and camping. I love living in the city of Chicago, but I often crave adventures in wide open lands that renew my spirit and make me feel at peace. I use these adventures as the inspiration for my work to provide others with a momentary escape from their everyday. Using watercolors, ink, acrylic, and graphite, I think of a positive memory or a landscape I loved and then translate what I saw and felt into paint using contrasting marks and textures. The shapes, colors, and perspective that I recall or imagine inform and guide each painting.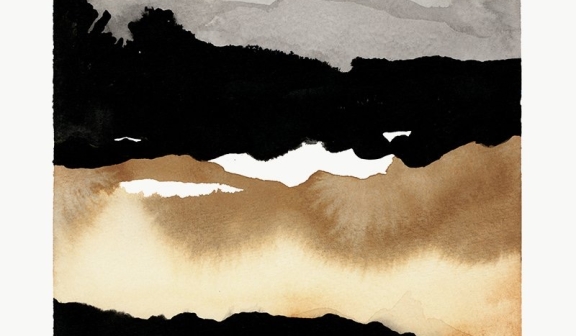 Clio's Art Collection – Jared Rue

For centuries, Native Americans had camped along Cherry Creek, given the name because of the small chokecherry trees that grew along its banks. This commissioned art is inspired by the lush nature the region offered.

Clio's Art Collection – Stephen Balut

This visual of the art and layered thread technique relate to the concept of the power of confluence, how two separate streams can merge and create a dynamic new flow together.

Clio's Art Collection – Donna Czapiga

This art responds to the concept of Pikes Peak Gold Rush. The organic quality of the background and striking gold paint almost appears as gold dust floating at the bottom of the river.

Clio's Art Collection – Suzanne Creighton

This commissioned art showing the vintage Colorado's mountain scenery with river in gold tone inspired by the story of gold discovery.

Clio's Art Collection – STEFANIYA SHVARTSMAN

This art visually conveys the quality of gold hidden inside the rock formation, portraying the sense of discovery and optimism.

Clio's Art Collection – PORTER TELEO

This art relates to the idea of gold inside fissured rocks under the river and representing an element of surprise.