Clio's Art Collection – Jared Rue
"When interpreting a landscape, I often try to find modern perspectives. My work has evolved from painting distant landscapes and underwater landscapes to my current compositions of 'in-the-forest', 'water bank', and 'macro' landscapes."
"My work, at times, leans towards the abstract yet still evokes a transcendent and genuine feeling of being able to enter, or step into, the paintings themselves – whether physically or mentally. The challenge is to create balance and contrast between light and dark, traditional and modern, boldness and serenity while at all times maintaining honesty." — Jared Rue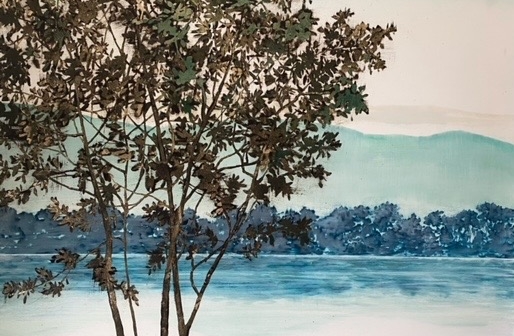 Clio's Art Collection – Donna Czapiga

This art responds to the concept of Pikes Peak Gold Rush. The organic quality of the background and striking gold paint almost appears as gold dust floating at the bottom of the river.

Clio's Art Collection – Kim Knoll

This art respond to the beautiful Colorado mountains, in abstract and dream-like visual.

Clio's Art Collection – Hannah Ehrlich

During the Pike's Peak Gold Rush period, gold dusts were oftentimes used as a currency for trading. This commissioned art represents the custom of people sewing the gold dusts onto their clothing for safekeeping, with weaves incorporating subtle gold threads.

Clio's Art Collection – PORTER TELEO

This art relates to the idea of gold inside fissured rocks under the river and representing an element of surprise.

Clio's Art Collection – STEFANIYA SHVARTSMAN

This art visually conveys the quality of gold hidden inside the rock formation, portraying the sense of discovery and optimism.

Clio's Art Collection – Stephen Balut

This visual of the art and layered thread technique relate to the concept of the power of confluence, how two separate streams can merge and create a dynamic new flow together.