Clio's Art Collection – STEFANIYA SHVARTSMAN
Our goal at Arthouse Studio is to help you tell your story through art. Whether you have a large-scale project or a personal space to fill, we will make your vision come to life. For over 10 years, Arthouse Studio has been designing and producing original works of art that are individually painted by our studio artists in Russia and shipped worldwide.
We are proud that the Russian school of painting is renown throughout the world for the development of outstanding professional and technical skills. Our artists' abilities to create and paint in any style have been a tremendous asset to designers who have collaborated with us on commissions for public spaces, hotels and private homes worldwide.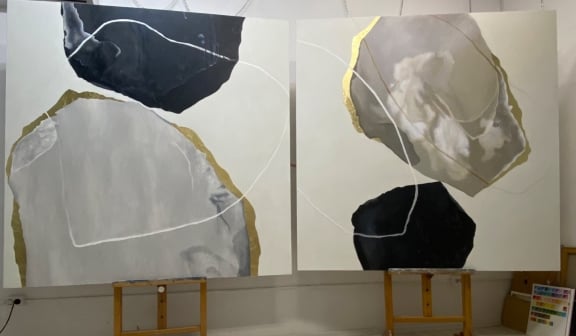 Clio's Art Collection – Kim Knoll

This art respond to the beautiful Colorado mountains, in abstract and dream-like visual.

Clio's Art Collection – Stephen Balut

This visual of the art and layered thread technique relate to the concept of the power of confluence, how two separate streams can merge and create a dynamic new flow together.

Clio's Art Collection – Hannah Ehrlich

During the Pike's Peak Gold Rush period, gold dusts were oftentimes used as a currency for trading. This commissioned art represents the custom of people sewing the gold dusts onto their clothing for safekeeping, with weaves incorporating subtle gold threads.

Clio's Art Collection – PORTER TELEO

This art relates to the idea of gold inside fissured rocks under the river and representing an element of surprise.

Clio's Art Collection – Jared Rue

For centuries, Native Americans had camped along Cherry Creek, given the name because of the small chokecherry trees that grew along its banks. This commissioned art is inspired by the lush nature the region offered.

Clio's Art Collection – Suzanne Creighton

This commissioned art showing the vintage Colorado's mountain scenery with river in gold tone inspired by the story of gold discovery.