Clio's Art Collection – PORTER TELEO
Porter Teleo is a line of hand printed, hand painted wallcovering and fabric developed by artist, Kelly Porter and interior designer, Bridgett Cochran. The patterns are created by employing a variety of fine art processes, such as wood blocking, painting and chine colle.
The product enlivens the best of fine art and high design, presenting a bold, distinctive color palette with refined aesthetic. The unique styling is drawing from ancient Japanese screens, antique architectural ornamentation, and the hand of artist Kelly Porter.
Only the finest materials are used in the process – from the richest pigments to handmade Japanese papers. The wallcoverings are of the highest quality, and the splendid result offers tradition with an eclectic flair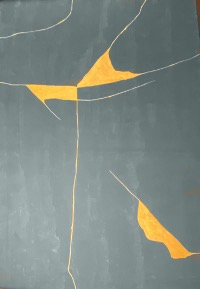 Clio's Art Collection – STEFANIYA SHVARTSMAN

This art visually conveys the quality of gold hidden inside the rock formation, portraying the sense of discovery and optimism.

Clio's Art Collection – Donna Czapiga

This art responds to the concept of Pikes Peak Gold Rush. The organic quality of the background and striking gold paint almost appears as gold dust floating at the bottom of the river.

Clio's Art Collection – Suzanne Creighton

This commissioned art showing the vintage Colorado's mountain scenery with river in gold tone inspired by the story of gold discovery.

Clio's Art Collection – Hannah Ehrlich

During the Pike's Peak Gold Rush period, gold dusts were oftentimes used as a currency for trading. This commissioned art represents the custom of people sewing the gold dusts onto their clothing for safekeeping, with weaves incorporating subtle gold threads.

Clio's Art Collection – Jared Rue

For centuries, Native Americans had camped along Cherry Creek, given the name because of the small chokecherry trees that grew along its banks. This commissioned art is inspired by the lush nature the region offered.

Clio's Art Collection – Stephen Balut

This visual of the art and layered thread technique relate to the concept of the power of confluence, how two separate streams can merge and create a dynamic new flow together.